Download this easy to read and understand Bible on your phone: the Bible you were expecting, free on your phone!
We offer you the Bible in basic English to download on your phone or tablet. This version of the Holy Book was created to make the Bible easier to read. It has simpler vocabulary and shorter sentences.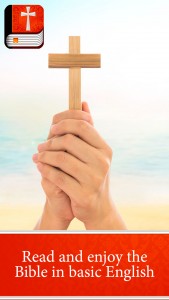 This is the easiest version of the Holy Word you have ever found!
Enjoy the easier Bible to read, available for free on your phone!
The Holy Bible online consists of 39 books in the Old Testament (Genesis, Exodus, Leviticus, Numbers, Deuteronomy, Joshua, Judges, Ruth, 1 Samuel, 2 Samuel, 1 Kings, 2 Kings , 1 Chronicles, 2 Chronicles, Ezra, Nehemiah, Esther, Job, Psalms, Proverbs, Ecclesiastes, Song of Songs, Isaiah, Jeremiah, Lamentations , Ezekiel, Daniel, Hosea, Joel, Amos, Obadiah, Jonah, Micah, Nahum, Habakkuk, Zephaniah, Haggai, Zechariah, Malachi ) and 27 books in the New Testament (Matthew, Mark, Luke, John, Acts, Romans, 1 Corinthians, 2 Corinthians, Galatians, Ephesians, Philippians, Colossians, 1 Thessalonians, 2 Thessalonians, 1 Timothy, 2 Timothy, Titus, Philemon, Hebrews, James, 1 Peter, 2 Peter, 1 John, 2 John, 3 John, Jude, Revelation)
This Bible version is written in everyday language, to help people to understand the Bible. Enjoy now this version of the Bible on your phone!
Download the Easy to read version of the Bible and brighten your mornings every day!