Are you a Bible reader? This is the app for you!
Download the Holy Bible app for free.
Now you can enjoy the most complete app of the Bible: Bible reader, free on your mobile device to read anytime, anywhere.
You like reading the Bible because you know it is good for you and brings you closer to God. Don´t wait any longer and get it instantly so you can read every day your favorite verses and share its teachings with your friends and loved ones.
Remember that God is always with you, accompanying you on your way and taking care of you. Never feel alone or helpless, follow His word and you will see a light at the end of the road.
Whenever you read the Bible you will learn something new and you will realize that anything is possible.
You will learn to love yourself but above all to love God.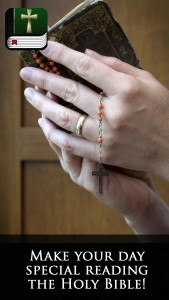 Wake up every morning reading the verses of this Holy book and you will see how your day will change completely.
The Bible has the Old and the New Testament:
The Old Testament describes the history of the founding of Israel and contains 39 books (Genesis, Exodus, Leviticus, Numbers, Deuteronomy, Joshua, Judges, Ruth, 1 Samuel, 2 Samuel, 1 Kings, 2 Kings, 1 Chronicles, 2 Chronicles, Ezra, Nehemiah, Esther, Job, Psalms, Proverbs, Ecclesiastes, Song of Solomon, Isaiah, Jeremiah, Lamentations, Ezekiel, Daniel, Hosea, Joel, Amos, Obadiah, Jonah, Micah, Nahum, Habakkuk, Zephaniah, Haggai, Zechariah Malachi).
The New Testament details the coming of Jesus, the man promised and contains 27 books (Matthew, Mark, Luke, John, Acts, Romans, Corinthians 1 and 2, Galatians, Ephesians, Philippians, Colossians, 1 Thessalonians, 2 Thessalonians, 1 Timothy , 2 Timothy, Titus, Philemon, Hebrews, James, 1 Peter, 2 Peter, 1 John, 2 John, 3 John, Jude, Revelation).
It is always a good time to read the Holy Bible online. Download it for free from the Google Play Store and enjoy this free Bible every day on your phone!